HORROR; 1hr 51min
STARRING: Jamie Lee Curtis, Andi Matichak, James Jude Courtney, Rohan Campbell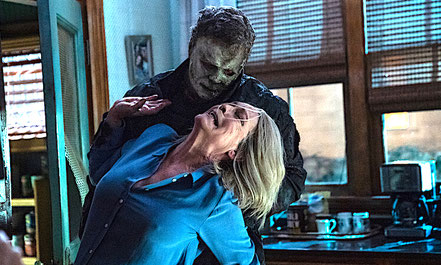 Kitchen sinker: Curtis and you-know-who
Forty-four years and 13 instalments later, Halloween Ends picks up in 2019, four years after Halloween Kills left off. Vowing to finally banish the spectre of masked mass slayer Michael Myers, aka The Shape (Courtney; the original Michael, Nick Castle, also swings by for a cameo), Haddonfield demon warrior Laurie Strode (Curtis) is working on her soul-cleansing memoir in the cosy home she shares with her granddaughter Allyson Nelson (Matichak). The project will be Laurie's new beginning. Or so she would like to think.
At the same time, in related news across town, sitting duck Corey Cunningham (Campbell), on whose fresh teenage face sweetness is writ large, is suffering through a babysitting gig from hell that leaves a little boy dead and Corey irrevocably damaged.
Back on board the SS Halloween after two previous go-rounds, director David Gordon Green rolls out the preamble to Michael's final chapter with a brisk efficiency that sees just one brief appearance in the first hour from the man whose life's mission is to ruin everybody else's. When MM does hit his thudding stride, as he is of course preordained to do, not only is his personality unimproved but he now has a fresh-faced accomplice…
With lurid butchery as its house special, the only direction any film can take is down. But while subtlety is hardly a priority on Haddonfield's slippery slope, never let it be said that the team fails to give authenticity the old college try. Curtis holds tight to Laurie's wounded dignity, Matichak and Campbell are unflagging in the trenches while The Shape, impenetrable as ever, is evil made flesh manifesting the unspeakable.