HORROR; 2hr 15min
STARRING: Daniel Kaluuya, Keke Palmer, Steven Yeun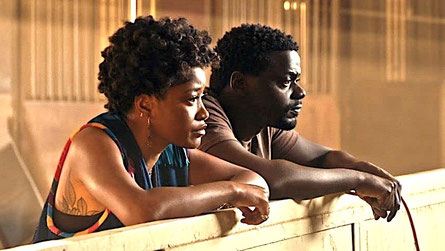 Film-maker Jordan Peele (Get Out, Us) gets right down to it in the opening frames of the progressively hairy Nope, with a quote from a biblical verse that lays darkness visible on the line. "I will cast abominable filth upon you," Nahum 3:6 cautions, "make you vile and make you a spectacle."
And he's off! After flashing back to the on-set disaster of a murderous TV chimp in 1998, the timeline cuts to the current destabilising reality of Californian film and television horse trainer OJ Haywood Jr (Get Out 's Kaluuya, gloom-sunk), whose father, Otis (Keith David), is bafflingly sliced to extinction by a rogue nickel that hurtles from above while he is riding his horse.
When OJ and his live-wire sister, Emerald (Palmer), inherit the poisoned chalice of their old man's dustbowl ranch, they have their hellish work cut out for them: not only is the place a financial sinkhole but it's plagued by a visitor of the unidentified flying variety. The sibs' efforts to milk this bizarre development for every nickel it's worth yield mixed results, with their freshly installed CCTV cameras delivering patchy footage. The huckster operator of a nearby Wild West theme park (Yeun as Ricky "Jupe" Park), who as a child actor survived the carnage of that rampaging chimp, will fare far worse than his neighbours, for the creature in the sky is hungry and incensed. Neither of which is about to deter the Haywoods.
While it lacks the gut-punch factor of his previous two films, the engine of this freak show is still Peele's strategic deliberation. Framed by the bleak beauty of Hoyte van Hoytema's cinematography, the sense of apprehension is orchestrated with the confidence of a storyteller content to take his time. When the worst duly does arrive, at its core lies the culpability of those to whom the unknowable is an aggrandising opportunity.