COMIC DRAMA; 1hr 47min
STARRING: Sally Phillips, Alexander England, Cameron Daddo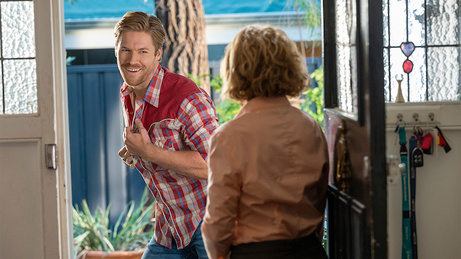 Pleased to please you: England and Phillips
Gina (Phillips) could sorely use an awakening, which has to be what her girlfriends are thinking when they gift her a stripper (England as Tom) for her 50th birthday. Nixing him in mid-swivel, mouseburger-style, Gina has the disconcerted Tom clean her house instead, which fits right in with her dusty marriage (to Daddo's snarky Adrian) and buttoned-up expectations. Luckily for Gina, inspiration strikes when she loses her job at a Fremantle liquidation firm, what fun, and Tom — who is also a sweet-natured removalist for a company currently being liquidated by Gina's former employers — loses his, too, along with his fellow lifters (Ryan Johnson and Josh Thomson).
Although conceived by Gina as a straight-up house-cleaning service, Please To Move You takes off with a bang when its unlikely lads throw in sex as an extra. Since slap and tickle has never been a one-size-fits-all, as Gina points out to Adrian (who patently wouldn't know), "Women are quite tricky to please." But since nothing is impossible in this rosy trip to self-discovery, cleaners and clients are in for an up close crash course.
Writer-director Renée Webster's screenplay is billed in its press notes as "[a] hilarious, feel-good comedy" and while it does have its moments in the sun, the business of pleasure is by no means played solely for laughs. As a woman learning step by hesitant step to embrace herself with her sexuality, Phillips is the real, unaffected deal while her cheer squad are the deep-dyed friends everyone will wish they had. Sex for sale could have been a shoddy equation but Webster's sprinkles of spice are a means to an end in a round of applause for mid-life as a work in progress.