COMIC DRAMA; 1hr 48min
STARRING: Keri Russell, Jeremy Sisto, Nathan Fillion, Cheryl Hines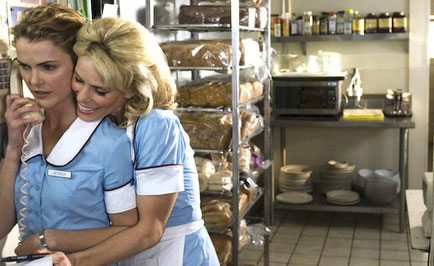 The waiting game: from left, Russell and Hines
It's impossible to watch this quirky small-town comic-drama from writer-director Adrienne Shelly without an undercurrent of sadness: Shelley was murdered in 2006 and never got to celebrate what she had created. And there are some very sweet things to celebrate — namely, the scrumptious pies (marshmallow, cheesecake, chocolate…) that Southern-gal waitress Jenna (Russell, nicely thoughtful) cooks up at Joe's Pie Diner (Andy Griffith is a prickly treat as Joe). The young lady surely does love her pies, which is more than she can say for her smothering husband, Earl (Sisto), who she can't stand but to whom she is pregnant after a drunken slip.
Jenna gets by dreaming up her dishes and sharing confidences with her fellow servers (bright sparks Hines and Shelly). One big secret she keeps to herself is that she has fallen for her gyno (Fillion), who is way more dishy than her husband, but still…
We'll never know what more Shelly could have done. What should have been a buoyant step forward has become her poignant farewell valentine to life and to love. Bravo.