DRAMA; 1hr 58min
STARRING: Halle Berry, Benicio Del Toro, David Duchovny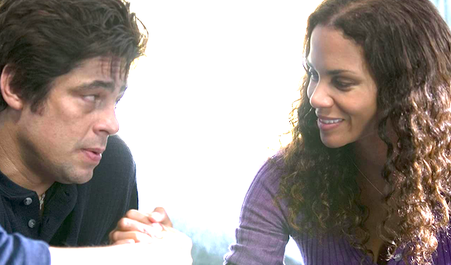 Reaching out: Del Toro and Berry
Keeping it real, Danish director Susanne Bier doesn't mess about with the serrated tragedy of Things We Lost in the Fire. A much-loved husband (Duchovny as Brian) and father of two is randomly killed, leaving his wife (Berry as Audrey) bereft. Brian's friend from childhood, junkie screw-up Jerry (Del Toro) is the last person Audrey invites to his funeral and the first to whom she turns in its barely endurable aftermath, offering him a room off her garage in exchange for what, exactly, she is not sure since she has never liked him.
Jerry can hardly take care of himself, and Del Toro drives that home with furrowed, Shar-Pei puppy pitifulness. Meanwhile, Audrey ricochets between selfishness and resentment — a patented prescription for trouble. And yet somehow, the pair's separate wounds add up to something whole.
Bier approaches these potentially mawkish areas with a calmness that diffuses any melodrama while heightening the immediacy. The unhurried, hand-held cameras go in close, but with characters this credible to scope out, Berry and Del Toro are up for all the heat.