DOCUMENTARY; 1hr 26min
DIRECTED BY: Thierry Piantanida & Thierry Ragobert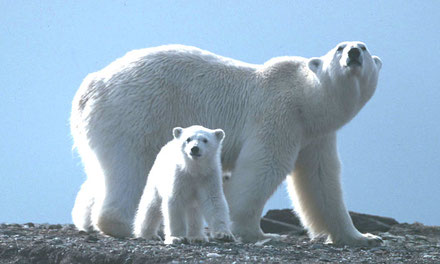 On top of the world: polar bear and cub
In The White Planet, film-makers Thierry Piantanida and Thierry Ragobert have captured a crystalline realm in the moods and seasons of the North Pole. The life cycle begins with a mother polar bear burrowing into her den for 100 days of winter darkness. Liberated by spring, she and her two newborn cubs explore the outdoors as the crew heads off on its own odyssey.
The bulbous grotesquery of the hooded seal, the single-minded stealth of the wolf, the purposeful migration of the caribou, the massive cracking of sun-warmed pack ice, the liberation of fantastical sea life beneath it and the pitiless imperative of the hunter and the hunted — the Thierries and their team have caught it all, and more.
When an intimate perspective and an aura of reverence coalesce, a nature documentary is a visual amazement. Narrated in English by Sven Eriksson and scored with thrumming, tribal-style refrains, this is a wondrous picture of an imperilled other-world.