DRAMA; 2hr 6min
STARRING: Christian Bale, Steve Zahn, Jeremy Davies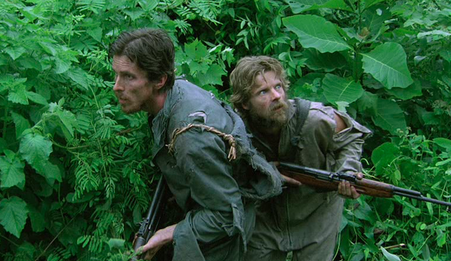 Flight path: from left, Bale and Zahn
In February 1966, while on a top-secret mission over Laos, US Navy Flight Lieutenant Dieter Dengler (Bale) is shot down. Dengler is wily and resourceful — not enough to evade capture by the Viet Cong, but enough to withstand torture and mastermind a daredevil escape with his fellow detainees (a piteous Zahn and Davies among them).
Dengler is something of a cause célèbre with film-maker Werner Herzog (Grizzly Man), who documented the airman's grievous plight in 1997's Little Dieter Needs to Fly. In Bale, who vanishes without a trace into whichever role he plays, Herzog has the best possible accomplice for his contemplative style.
Not one to rush, the writer-director allows the stultifying rhythm of prison camp life — and the paradox of the surrounding jungle's drowsy beauty — to speak their own volumes. Herzog knows that for those embroiled in war, with its grotty, dehumanising deprivation, survival is about the fortitude and cunning of simply hanging on. That's why Dengler's ravaged persistence is so hypnotic: his refusal to succumb to horrendous circumstances is a life force at its most tested and defined.