ROMANTIC DRAMA; 2hr 6min
STARRING: Hilary Swank, Gerard Butler, Lisa Kudrow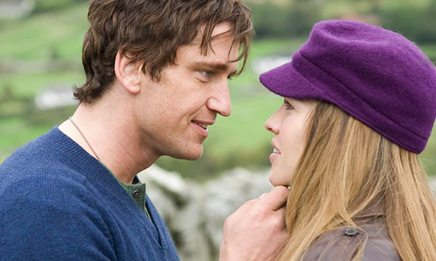 Chin up: Butler and Swank
In the pre-credits opening sequence of P.S. I Love You, the wonderful Swank (as Holly) and a winsome Butler (as Gerry) rip through a squabble that perfectly encapsulates their nine-year marriage and the differences that both divide and bind them: she, anal fussbudget; he, Irish beguiler. It's a great, illustrative scene, and it needs to be because in the next one, Holly is attending Gerry's wake after his death from a brain tumour.
Widowed at 29, Holly is a mess. But Gerry isn't done with her yet. And as she painfully regroups with the help of instructional letters from her late husband, she is given a hand by a zany crew (Kudrow, Harry Connick Jr, Gina Gershon, Kathy Bates…).
Richard LaGravenese's direction balances humour, pathos and pithy, seize-life observations with rare surety. Romantic comic drama (romcomdra?) is a tough call and prone to middle-act sag. That doesn't happen here: Holly and Gerry's devotion — and Holly's new, wounded lease on life — is the stuff that moonshiny, must-love movies are made of.