COMIC DRAMA; 1hr 34min (Swedish with subtitles)
STARRING: Jessika Lundberg, Elisabet Helander, Eric Bäckman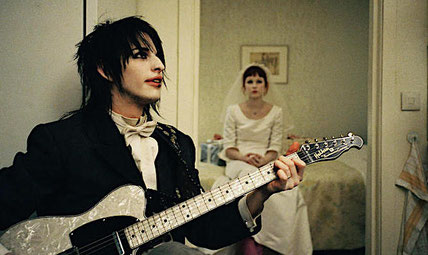 Dream marriage: Bäckman and Lundberg
Beyond a certain washed-out urban cheerlessness and the sly, po-faced absurdity that bubbles beneath the surface, it is difficult at first to connect the human dots in the one-take vignettes of Swedish puzzler You, The Living. Not since Lars von Trier's The Kingdom has such distinctive Nordic weirdness sprung to life onscreen — and that was 14 years ago.
A man plays the tuba incessantly, to the ire of his downstairs neighbour. A surly woman loudly bemoans her unlikeability. A teacher weeps before her puzzled young class after fighting with her husband. Another man dreams of being electrocuted for smashing the antique table setting of strangers. And so it goes on in a slipstream of oddities that begin to click together even as the wack factor escalates.
According to film-maker Roy Andersson, his characters "represent different facets of human existence." Just how many could be debatable. But the stark, dreary interiors and frustrated and woebegone individuals certainly do spotlight discontent while the overall strangeness pans out as a screwy reward.