ROMANTIC COMEDY; 1hr 48min
STARRING: Katherine Heigl, James Marsden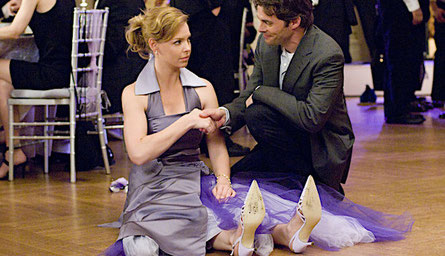 Always a bridesmaid? Heigl and Marsden
She was knocked up in the movie of that name. Now cinematic sweetie Katherine Heigl is a busy Lizzie as serial bridesmaid Jane, whose undeserving kid sister, Tess (Malin Akerman), is engaged to the man of Jane's dreams (a bland Edward Burns), who is also her boss, deep sigh.
Helmed with the requisite high-gloss by Anne Fletcher (Step Up), 27 Dresses puts Heigl in sensible secretary shoes, weddings aficionado Jane being super-practised in life skills but spinsterishly cursed in love. And in the meantime, the guy who Jane should be setting her sights on (Marsden, loosening up after his Enchanted turn) is right under her pert little nose…
Every frame of this one feels like a retread, which would have been a far bigger deal if Heigl weren't gorgeous and great throughout, her distress and frustration so unfiltered they belong in a far more challenging (and hopefully less soapy) film. If elevating her material is the mark of a fine actress, the lady has well and truly made hers, with wedding bells on.