CRIME DRAMA; 2hr 3min
STARRING: Jim Sturgess, Kevin Spacey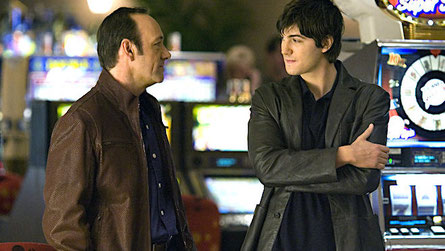 Against the odds: from left, Spacey and Sturgess
Beating the system is tough all over but especially in Las Vegas where the decks are stacked for the casinos. Tough all over yet not impossible, as Massachusetts Institute of Technology maths brainiac Ben Campbell (Across the Universe's winsome Sturgess) and his student posse find out when they triumph at the blackjack tables with a system of card-counting and visual codes.
Adapted from Busting Vegas, the 2005 nonfiction book by Ben Mezrich, director Robert Luketic's peppy caper tracks Ben's transformation from awkward swot to sharp-suited weekend player. Co-opted by a rogue professor (Spacey) into his crack squad, Ben is a natural with a steel-plated calculator mind. There is a big catch, however (isn't there always?): not only does Ben get carried away, but casino heavies are watching him.
Vegas is a great, spangly warhorse of a city that always comes up trumps on camera. The same can't be said for Mr Campbell, who — big surprise — is in for a rude awakening. His addictive exploits are further boosted by the odd well-placed twist, to underscore the naughty rush of upending the odds.