THRILLER; 1hr 54min
STARRING: Don Cheadle, Guy Pearce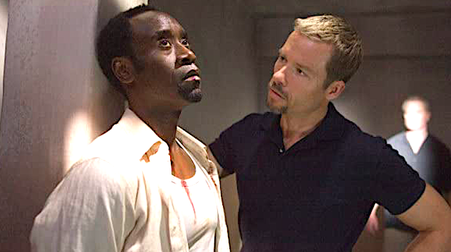 Prime suspect: from left, Cheadle and Pearce
In present-day Yemen, former US Army Special Forces explosives expert Samir Horn (Cheadle) is negotiating the sale of detonators to a group of terrorists. The meeting is rumbled and Horn ends up in prison where he refuses to co-operate with FBI agents (Pearce and Neal McDonough, hanging tough).
Who is this elegant, reflective, dedicated Muslim really? According to FBI intel, Horn is that most dangerous creature: a zealot who has turned against his own. And so when he escapes to Marseilles, it is imperative that he be tracked down and locked up again. But Horn is even more elusive and complex than he first appears.
This is an interesting choice of role for Cheadle (Hotel Rwanda), who tackles it with a pained integrity that goes a long way to papering the feasibility cracks of writer-director Jeffrey Nachmanoff's exploitative, serpentine thriller. Traitor shakes its tail feather, zipping through international locales with insouciant ease. But the terrorist rhetoric derails into simplistic ranting en route, leaving only fancy footwork to carry and close the show.