DRAMA; 1hr 35min
STARRING: Daniel Frederiksen, Geoff Morrell, Lucy Bell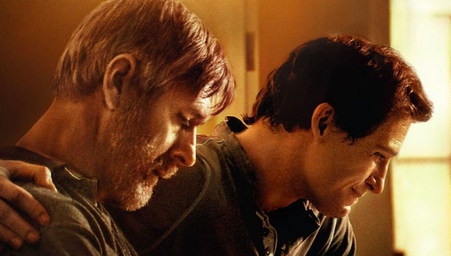 Prodigal son: from left, Morrell and Frederiksen
Films about "ordinary" Australians tend to nosedive into dross. But not this time: co-written by Anthony Hayes (who directs) and Love My Way 's Brendan Cowell (who features as a larrikin about town), Ten Empty 's messed-up Adelaide family flicks the bleeding heart obvious for a direct hit to the jugular.
Ross Christie (Morrell), his sons Elliot and Brett (Frederiksen and Tom Budge) and his second wife, Diane (Bell), have been torn apart by their past. Elliot left home 10 years ago after the death of the boys' unstable mother, the once-outgoing Brett is a mute recluse, Ross is a drunk and Diane is overwhelmed. Returning for the christening of Ross and Diane's baby son, Elliot is embroiled in the same pit of misery he ran from.
Gut-tearing extremes are a hard call for any cast: put one foot wrong and you are slap-bang in a soap. That never happens with the Christies. The fractured clan is achingly credible — in their estrangement, their excesses and the emotional glue that binds them, because and in spite of themselves.