COMEDY; 1hr 41min
STARRING: Rupert Everett, Colin Firth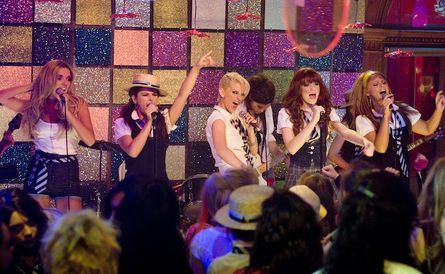 Spicy girls: Girls Aloud (as the school band)
Britain's naughtiest girl's school started life in the 1940s as cheeky drawings by cartoonist Ronald Searle, then went on to become a series of films. Does 2008 deserve another dose? Not if tasteful restraint is your thing: its ramshackle weirdness undiminished, this St T's is as Noughties as they come.
Setting the outlandish tone, Rupert Everett is a crack-up blonde study as English-rose headmistress Camilla Fritton, fighting for her institution's financial life (he also does double duty as Camilla's toffy brother Carnaby). The Brits do love a spot of drag, along with skimpy uniforms, wiggy hairstyles, morning cocktails and a bit of the old jolly-hockey-sticks ultra-violence. And yes, there is a plot, in which the bright-spark girls mastermind an art heist — and foil the ultraconservative Minister of Education (Firth).
When unremitting silliness is the name of the game, the only way to play it is to relax and enjoy. St Trinian's won't take out any Top School trophies. But don't we all wish we went there?