DRAMA; 1hr 48min (French with subtitles)
STARRING: Agathe Rousselle, Vincent Lindon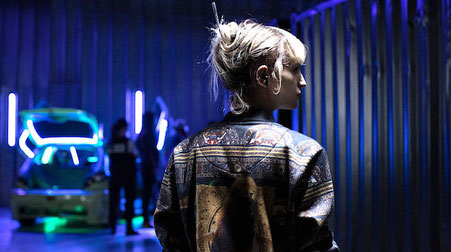 Fresh — relatively speaking — from the international film festival circuit where it claimed the Palme d'Or at Cannes, critical darling Titane has also claimed its share of shock-horror responses from viewers, with the more appalled Sydney Film Festival patrons either walking out or passing out. Say quoi ? This I had to see.
Written and directed in all seriousness by Julia Ducournau, it is the extremely tall tale of a dour little girl (Adèle Guigue as Alexia) who has a titanium plate screwed into her head following a car accident. This procedure will have significant repercussions (big hint: titane is French for titanium). As a dour young woman, dancer Alexia (first-timer Rousselle, keeping her considerable cool under even more considerable pressure) enjoys rough sex with a car to which she becomes pregnant. Alexia is also a violent killer — violence being the leitmotif of this deconstruction of torment — prone to psychopathic fits of stabbing. On the lam from the law, she disguises herself as missing boy Adrien, who disappeared 10 years before. She does this by cutting her hair, wrapping her breasts with tape and breaking her nose. Now a mute hybrid whose swelling stomach is prone to leaking motor oil, Alexis-as-Adrien is taken in by a steroid-pumped fireman (Lindon) who remains inexplicably convinced that she is his long lost son and will love and support her to a wildly stirring end.
Feeling queasy yet? By no means could this inky concoction be everybody's strange brew, but nor is its inflammatory DNA designed for mass consumption. Thumbing her shattered nose at cinemas swamped with cut-and-paste franchises, Alexis blazes a sawtoothed trail through every overworked formula.