DRAMA; 1hr 28min
STARRING: Michael Caine, Jude Law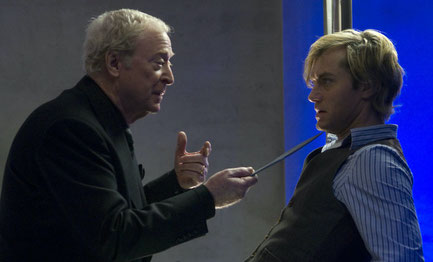 Old blade: from left, Caine and Law
In 1972, Michael Caine starred in the original film of Anthony Shaffer's 1970 stage play Sleuth. Back then, Caine, who was in his Alfie years, played cocksure young Milo Tindle, with Laurence Olivier as the machiavellian novelist Andrew Wyke, whose wife has left him for Milo.
In director Kenneth Branagh's mannered remake, Caine is Andrew and Law — after his 2004 incarnation of Alfie Elkins — is Milo. (The irony clearly isn't lost on them. "What's it all about?" Law asks his rival, channelling Mr Elkins in a cheeky hat-tip.)
Arriving at Andrew's high-tech mansion to demand a divorce for his lover, the arrogant young Lothario is coerced by the wily old fox into robbing the place. It is rash of Milo — of whom greed has made a stooge — to cross swords with a man with the face of a sphinx and the poisonous intelligence of a sadist. He is more than up for it, however, and from thereon in, the tangle of dirty strategy tightens as the two test each other's limits.
Adapted by Harold Pinter, the loops and twists are laid out with sleek theatrical flair. The text does feel a mite dated but Caine and Law are a dynamite combination, and that's a damned good thing: with the stakes this OTT, they need to stay on top of their artful, unpredictable games.