DRAMA; 1hr 44min
STARRING: Stephen Dillane, Rade Sherbedgia, Rosamund Pike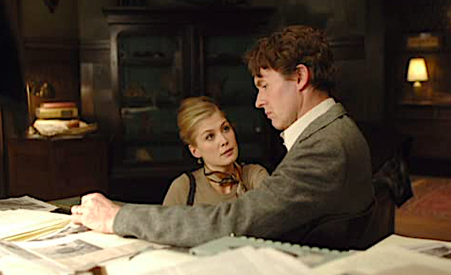 Damaged goods: Pike and Dillane
The initial minutes of Fugitive Pieces are paradoxically beautiful as 7-year-old Polish boy Jakob (Robbie Kay) hides in terror in a forest after watching his parents' murders and his sister's abduction by the Nazis. The trees are a sanctuary etched in lines of blue and grey but the damage to the little boy already runs deep.
Jakob is rescued by a kindly archaeologist (Sherbedgia) who spirits him back to Greece. He grows up in Canada, becoming a successful writer (now played by a sunk-in-gloom Dillane). Yet the trauma of his past continues to define him, destroying his marriage (to a livewire Pike). Not until he meets a woman with whom he can bond (Ayelet Zurer) does he begin to mend, praise the Lord.
Writer-director Jeremy Podeswa's downtempo film of Anne Michaels's 1996 novel moves back and forward through Jakob's lives-within-a-life. It is heavyweight work whose cerebral contemplation eventually becomes oppressive. But Kay as the young Jakob is more eloquent in his haunted silence than the most polished torrent of words.