DRAMA; 1hr 50min
STARRING: Keira Knightley, Sienna Miller, Matthew Rhys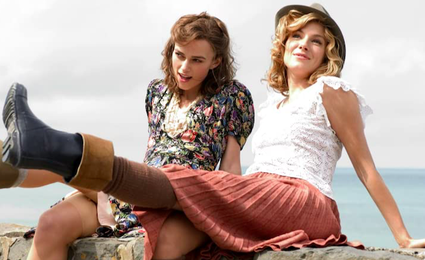 On the edge: from left, Knightley and Miller
Dylan Thomas (Rhys, embodying the louche and chubby part) wrote poetry with an angel's pen. But according to director John Maybury (Love Is the Devil ) and screenwriter — and Knightley's mother — Sharman Macdonald, his life was far less seamless.
The Edge of Love is a handsome, waffly drama set in the London and Wales of World War II. It centres on the women who encircled the Welsh poet: his boyhood sweetheart Vera (Knightley) and his flamboyant wife Caitlin (Miller). The two are best friends and rivals for Dylan's affection, which he distributes with bohemian largesse. Possibly to escape this, Vera marries her sensitive soldier beau (Cillian Murphy), who becomes psychologically damaged in combat. Meanwhile, the Thomases incite each other with infidelities. But when Dylan's conquests include Vera, her friendship with Caitlin is compromised.
Maybury's studied approach is arty to a fault, with slavish emphasis on Knightley and Miller's glamour-puss looks. As the relationships flame out in a sordid mire of betrayal it seems inconceivable that they burned as long as they did, so poor-me selfish is everyone involved.