COMEDY; 1hr 28min
STARRING: Vince Vaughn, Reese Witherspoon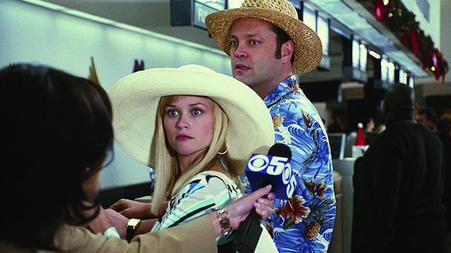 Breaking news: Witherspoon and Vaughn
Me First hats off to Brad (Vaughn) and Kate (Witherspoon), a smug San Francisco couple whose idea of the Christmas spirit is to flick their divorced parents and assorted rellies for more desirable destinations, lying meanwhile about what they're up to. When they're caught on TV at the fogged-in airport, the disconcerted pair must endure the karma of four family get-togethers in one disaster-packed day.
First stop is Brad's proudly redneck father (Robert Duvall). It's a catastrophe, and only the beginning. Visit number two, with Kate's born-again mother (Mary Steenburgen), adds insults to injuries. Visit three — Brad's mama (Sissy Spacek) — rapidly goes south and by number four, with Kate's dad (Jon Voight), Christmas is officially a shambles and Brad and Kate are revealed to each other in myriad unsettling ways.
Vaughn and Witherspoon are ideal opposites, her dainty neatness slipping prettily into the groove of his loosey-goosey carry-on. They also know how to dial it down when the curveballs demand it. And since their rocky little odyssey is loaded with left field zingers, that is something to celebrate.