DRAMA; 1hr 43min
STARRING: Richard Jenkins, Haaz Sleiman, Danai Gurira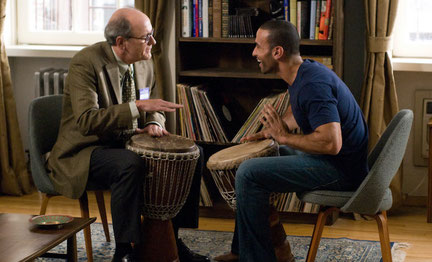 Beat it: from left, Jenkins and Sleiman
Walter Vale (Jenkins) is a Connecticut economics professor whose life has grown dusty from neglect after his wife's death. That changes when he discovers a young couple tricked into living unlawfully in his New York apartment. Tarek (Sleiman), a Syrian, plays the djembe (a kind of bongo drum); Zainab (Gurira) is an African jewellery designer. Aware that they have nowhere to go, Walter allows them to stay on. And why not? The two are vibrant, creative, engaging — and illegal immigrants.
Like Ulrich Mühe in The Lives of Others, Jenkins as Walter has the creased-in sadness of loneliness and defeat. Through Tarek and Zainab's troubles — and through his blooming relationship with Tarek's stoic, gracious mother (Hiam Abbass) — he rediscovers a sense of purpose, and with it his helplessness in the impassive face of bureaucratic indifference. 
Written and directed by Tom McCarthy (The Station Agent ), The Visitor is a small and personal film that neatly juggles the surprising riches of friendship with the pervasive international issue of cultural displacement.