DRAMA; 2hr 8min (Afghani and Urdu with subtitles, English)
STARRING: Khalid Abdalla, Homayoun Ershadi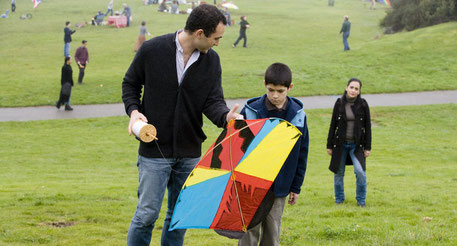 California dreaming: from left, Abdalla, Ali Danish Bakhtyari and Atossa Leoni
In a thriving 1978 Kabul, Amir (Zekiria Ebrahimi as a boy, Adulla as an adult) and Hassan (Ahmad Khan Mahmoodzada) are inseparable, their difference in class notwithstanding. Hassan and his father are servants in the elegant household of Amir's father, Baba (Ershadi); even so, the boys' friendship is a seamless fit. They love Steve McQueen and flying their kites, but when Hassan is brutalised, Amir does nothing.
The incident changes everything. Resentful of Hassan's boundless loyalty, weak-willed Amir becomes sneaky and cruel. When the Soviets invade Afghanistan in 1979, the two have already parted ways. Amir and Baba escape to California and carve out a modest life. But decades later, the fates haven't finished with Amir's transgression.
Based on Khaled Hosseini's 2003 debut novel, The Kite Runner is a haunting, eloquent reflection on the past informing the present, and the karmic debt of obligations unfulfilled. It covers decades and continents while never forgetting the intimate truth that propels it: that whatever horror men are capable of, the capacity for goodness is a great and ennobling force.