DRAMA; 1hr 35min (French with subtitles)
STARRING: Nicolas Cazalé, Clotilde Hesme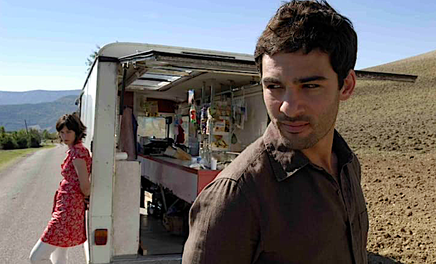 Van damn: Hesme and Cazalé
Estranged from his ailing father (Daniel Duval), surly britches Antoine Sforza (Cazalé) agrees to help out in the family's Provence grocery business. With Monsieur Sforza in hospital, Antoine moves back in with his accommodating maman (Jeanne Goupil) after 10 years frittered in Paris. He brings with him a young woman he fancies (Hesme, serenely fetching as Claire) and sets about offending everyone.
Antoine's job is to drive a grocery van stacked with basics that visits elderly folk in outlying areas. He handles it with the lack of grace that defines his life. Why is he so angry and withholding? Then M. Sforza returns home and the answer falls into place.
Like country life, The Grocer's Son ambles, its tranquil beauty a story in itself. And like country life there's a lot going on, in increments, beneath the surface. Antoine's evolution is subtly done by director Eric Guirado and Cazale plays him with just enough bite. The son may be coming into himself but he takes his time to grow up gracefully.