DRAMA; 2hr 2min
STARRING: Frank Langella, Michael Sheen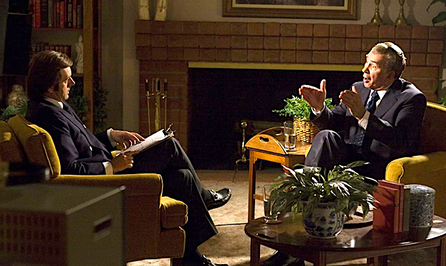 Duelling egos: from left, Sheen and Langella
In 1974, US President Richard Milhous Nixon (Langella) was forced to resign after the Watergate scandals implicated him in wiretapping, break-ins, campaign fraud and more. Three years later, English talk-show host David Frost (The Queen 's Sheen) hatches the idea of a tell-all series of interviews with the dishonoured leader — a laughable notion given Frost's lightweight, celebrity interviewer status.
Based on events, adapted from his own stage play by Peter Morgan and directed with his usual fluid precision by Ron Howard, Frost/Nixon is an insider's eye view of high-stakes strategising. Sheen's Frost emerges as urbane and self-assured, refusing to bow to crippling pressure. Langella's Nixon is foxy and oblique, convinced of his ability to outwit his opponent, and both actors excel with their every nuance.
The interviews are a pas de deux par excellence. Can Frost needle through the cracks in Nixon's verbose veneer? It speaks volumes for Morgan's laser-honed screenplay that decades later, the tension is still a force field. Hot-button moments in modern history don't come more charged than this meshing of emotion and mind-play.