THRILLER; 2hr 8min
STARRING: Leonardo DiCaprio, Russell Crowe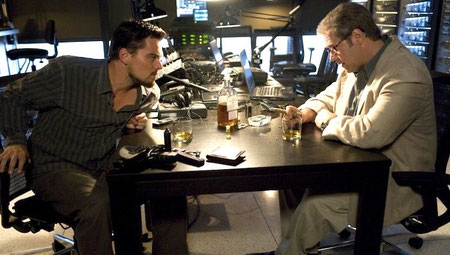 The plot thickens: from left, DiCaprio and Crowe
The mêlée of the Middle East is anarchic and surreal in the dynamite Body of Lies, directed by Ridley Scott and adapted by screenwriter William Monahan (The Departed) from the 2007 novel by The Washington Post columnist David Ignatius. Top-gun CIA agent Roger Ferris (DiCaprio) stays alive — just — by running on adrenaline to outwit ungovernable hate. Back in the US, his counterpart Ed Hoffman (a weighty Crowe) coolly supervises proceedings by omnipresent phone.
Phone calls and electronic surveillance are a strategic dimension away from the high-risk reality of the thick of things. Yet along with the cool-customer head of the Jordanian General Intelligence directorate (Mark Strong), these two, diametrically different men must work together to hunt down a prime-target terrorist.
Director Scott and his crack cast inhabit this unfathomable other world with seamless, grand-scale brio and compulsive, down-to-biz performances. Body of Lies is a movie that keeps its wits about it and gets around with a vengeance in the process. Stay tuned through the multiple twists — this is fiction on a parallel track to truth.