DRAMA; 2hr 4min
STARRING: Winston Duke, Zazie Beetz, Benedict Wong, Bill Skarsgård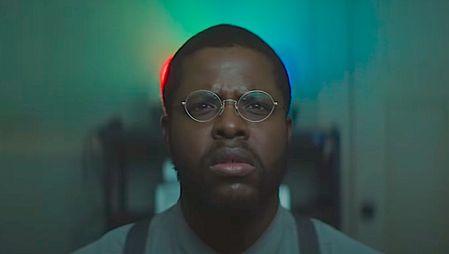 Moving with the careworn weariness of a man upon whom duty hangs heavy, Will (Us and Black Panther's Duke) must make momentous decisions. His role in this metaphysical reckoning from first-time writer-director Edson Oda is to take the measure of a spectrum of unborn souls, deciding over the course of nine days which one will be born, leaving the others to dissolve into the ether. A place in his roster has become available after the car-crash death of a virtuoso violinist of whom Will was especially fond and over whom he agonises, watching and rewatching footage of her final moments on one of the TVs he uses to keep track of his chosen people. While this is literally soul-destroying, the mortality show must go on for Will and his amiable assistant Kyo (Wong), who unlike Will, for better and for worse, has never been alive.
The hopefuls are interviewed about their theoretical life choices in a place that is neither here nor discernibly there: Will's modest, dimly lit bungalow sits alone in a featureless space like a sad neighbourhood of one. It could be argued that if ethical accounting really were a thing, the world would be a far more balanced place; in any event, with the competing souls winnowed to two (Beetz and Skarsgård), Will has his wrenching work cut out for him.
What qualifies Will to make the call between existence and extinction is one question Oda leaves open. Then again, unknowability is as central to the human condition as the fleeting beauty of the experiences that Will recreates for those souls who will never know them in person. Imagine living each beach trip or bike ride as if they were your first and last.