CRIME DRAMA; 2hr 10min
STARRING: Edward Norton, Colin Farrell, Jon Voight, Noah Emmerich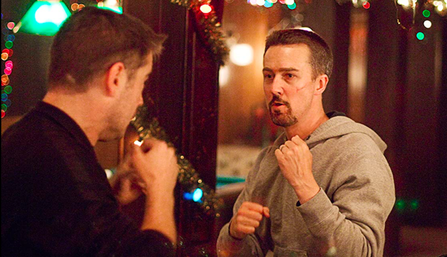 Brothers in law: from left, Farrell and Norton
New York's Finest are a tough crowd on a good day. And nothing rocks them more than when one of their own is killed in action. So when four policemen are found dead in an apparent bungled drug bust, Manhattan's assistant chief of detectives Francis Tierney (Voight) is swift to react.
Tierney appoints his detective son, Ray (Norton), sidelined by choice into Missing Persons, to head up the investigating task force. Ray isn't keen, especially since the issue is personal: the dead men were under the command of his brother, Francis Tierney Jr (Emmerich), and workmates of his brother-in-law, Jimmy Egan (Farrell).
The crowning irony of police work is the ethical toll it can take on those who serve and protect. As Ray's digging unearths a stash of filthy secrets, the fallout comes down to allegiance and choice. Film-maker Gavin O'Connor's steely, downsliding drama — muscled out by its four fiercely matched leading men — rams its point home with blunt and remorseless force as Jimmy's ambiguous agenda forces those around him to redefine what it means to be a family.