ACTION COMEDY; 1hr 45min
STARRING: Ben Stiller, Amy Adams, Owen Wilson, Hank Azaria, Robin Williams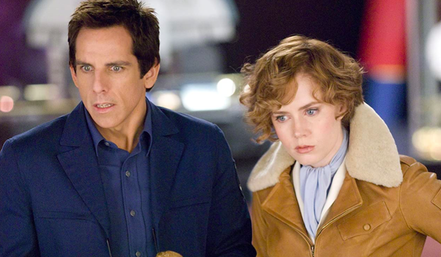 All aboard! Stiller and Adams
Plenty has changed since museum night guard Larry Daley (Stiller) first got busy one Night in 2006. Larry is now a gadget mini-mogul and his exhibit buddies Jedediah Smith (Wilson), Octavius (Coogan), Teddy Roosevelt (Williams) and Co are being shipped from New York's Museum of Natural History into storage at the Smithsonian Institution in Washington, DC. On board is the magical tablet that brings the artefacts to life after dark.
Cue the techno razzle as Larry arrives to rescue the troops, teaming up with perky aviator showpiece Amelia Earhart (Adams). The entire shebang is alive and kicking, from the beasties in the basement to the paintings upstairs. Leading the demented charge is an ancient, lisping pharaoh with a short fuse and a power complex (Azaria). Here we go…
The wisecracks underwhelm but you've got to give it to the concept. Not to mention the pot of gold that's been thrown at the genius visuals. And if the plot feels like a thinly stretched excuse for them, chalk that up to a standard Museum piece.