DRAMA: 1hr 49min
STARRING: Abigail Breslin, Sofia Vassilieva, Cameron Diaz, Jason Patric, Alec Baldwin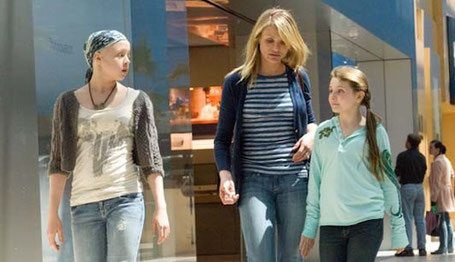 Tough love: from left, Vassilieva, Diaz and Breslin
How far should a parent go to keep their child alive? For Sara and Brian Fitzgerald (Diaz and Patric), whose 16-year-old daughter, Kate (Vassilieva), has battled leukaemia since childhood, the answer is as far as producing a test-tube sister whose blood, marrow and kidney they can harvest.
But after years of hospital ordeals, 11-year-old Andromeda "Anna" Fitzgerald (Breslin) has had enough and hires a go-getting pro bono lawyer (Baldwin) to medically emancipate her from her folks. This doesn't go down well, but really, who can blame her — even though without Anna's kidney, Kate will die? Fancy a fun night at the movies?
Director and co-writer Nick Cassavetes has dropped a hammer-subtle moral bombshell with this weepie, based on Jodi Picoult's 2004 novel, albeit with a radically tweaked finale. Even given the treacly and manipulative Hollywood treatment, it still packs a "what would you do?" sting. And of course, there is the core quandary of whether Kate will live or die. It turns out that question comes in tasteful shades of grey.