ROMANTIC COMEDY; 1hr 42min (French with subtitles)
STARRING: Virginie Ledoyen, Emmanuel Mouret, Julie Gayet, Michaël Cohen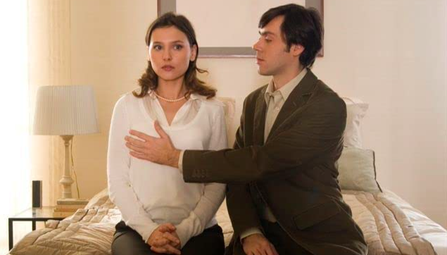 Touchy-feely: Ledoyen and Mouret
What is the potential fallout when friends become lovers? (And how very French is that question?) For researcher Judith (Ledoyen) and maths teacher Nicolas (writer-director Mouret), sex has never been an issue. She is happily married and he is her platonic soulmate. But Nicolas is feeling the itch of frustration and when he tentatively asks Judith to scratch it, she gobsmackingly agrees. So Parisian — even if he does leave his socks on.
Judith and Nicolas are the primary parallel story in Mouret's brown study, which begins with another chic, attractive couple (Gayet and Cohen) meeting by chance, sharing dinner and then — when he moves to kiss her and she declines — with her sharing her friends' tale of Oh No.
Mouret (Change of Address) is an agile raconteur, fluently entwining his twin narratives with a soufflé lightness of touch that belies what is essentially a talky laundry list of selfishness and betrayal. Judith and Nicolas don't deserve a happily-ever-after. But in their tedious bullheadedness, there is no doubt they deserve each other.