THRILLER: 1hr 58min
STARRING: Clive Owen, Naomi Watts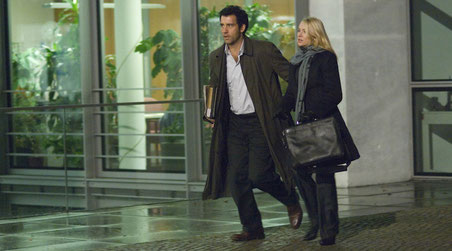 Chasing the money: Owen and Watts
Banks don't have a fabulous global profile right now and The International won't be notching it up. Its fictional International Bank of Business and Credit (IBBC) is a monster with shockingly grubby paws — so grubby the IBBC is being investigated for arms dealing by Interpol agent Louis Salinger (Owen, glowering away) and Manhattan assistant district attorney Eleanor Whitman (Watts, crisp as a tailored suit).
As Eric Warren Singer's business-issue screenplay tells it, the bank's rationale is to control the debt created by conflict. But like the plotting of legions of brain-teasing thrillers, the twisty reasoning of these sky-high financiers is slippery at best. And when Salinger and Whitman delve deeper into the murk (as one must when on a moral quest), Evil and its first cousins Amorality and Stylishly Framed Violence are all over the cosmopolitan place.
The International is a thriller to its densely laid lattice of bones: director Tom Tykwer (Run Lola Run) takes care of that with sobersides, catch-us-if-you-can proficiency. But it's also a cautionary story (as if we needed another one), the sting in its tail as pertinent as today's depressing financial headlines.