ROMANTIC COMEDY; 1hr 37min (Spanish with subtitles)
STARRING: Candela Peña, Sergi López, Nathalie Poza, Ramón Barea, Paula Usero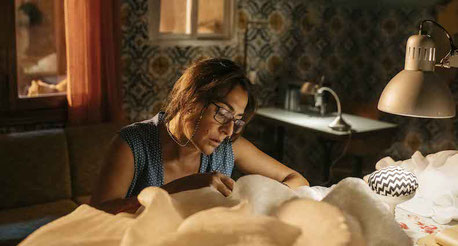 When her quixotic story begins, 44-year-old Valencia seamstress Rosa (Peña) is running a marathon, egged on at every turn by pushy spectators. Stretched to her limit, Rosa runs past the finish line to the point of collapse before waking up at her sewing machine. Yes, folks, it was all a dream — but the race couldn't be more symbolic of her actual, punishing existence. Overburdened and underappreciated, Rosa wears the look of a lost puppy like a second skin. Everything is all too much: between her never-ending To Do list at work, her ungracious daughter Lidia (Usero), her oblivious brother Armando (López), who is too busy to care for his kids and relies on Rosa to do it, her lonely widower father, Antonio (Barea), who foists himself on her despite her obvious reservations and her tippling sister Violeta (Poza), Rosa is awash in obligations.
In real life that would probably be the end of it, but as the leading lady of a feel-good fantasy, Rosa is cut from sturdier cloth. Her decision to skip town for the seaside and start afresh by re-opening her mother's dressmaking studio and symbolically marrying herself in an assertion of self-care is part declaration, part provocation. Doormats don't just up and go, after all — plus Armando has other plans for the studio…
And so the stage is set for rapid-fire family skirmishes in a scrim of cross purposes that all boil down to everyone wanting their own way. Like families everywhere, Rosa's runs the gamut of charming, infuriating, confronting and, finally, blessedly embracing. At its beating heart this bonbon from director and co-writer Icíar Bollaín is a love story, of the bonds of flesh and blood as much as of self, and its cockamamie wedding-for-one is affirmation in action.