HORROR; 1hr 31min
STARRING: Yahya Abdul-Mateen II, Teyonah Parris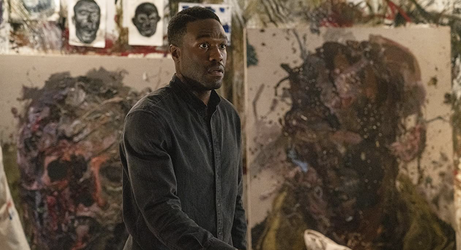 Satisfying and delicious: Abdul-Mateen
Previous experience isn't a must to dive into director Nia DaCosta's schmick sequel to the 1992 Candyman predecessor: without seeing any of the three previous slashfests in the series, I was hooked, groan, from DaCosta's opening 1977 flashback to Chicago's Cabrini-Green housing projects, in which a young boy (Rodney L. Jones III as Billy) gets more than his washing done. By 2019 the towers have been razed and rebuilt for the well-heeled, which gallery director Brianna Cartwright (Parris) likes to think renders the shiny apartment she shares with her boyfriend, artist Anthony McCoy (Abdul-Mateen), "ghost proof."
As. If. The ghost du jour in DaCosta's operatic screenplay (co-written with Win Rosenfeld and Get Out horror prodigy Jordan Peele, who also produces) is a remnant of the projects' humble past by the name of Sherman Fields (Michael Hargrove). Harmless and hook-handed with a sweet tooth in life, Sherman turns like a viper after being beaten to death by police and decides to stick around as a spectre. Now known as Candyman, he isn't into forgiveness. Repeat his name five times before a mirror and you'll conjure up his murderous reflection — which nobody would be certifiably stupid enough to do, right? As! If!
As dark and tortured night follows day, it also follows that in the twisted flipside of the horrorverse, even one as coolly self-aware as this, vigilance is a dirty word. Sure enough, the foolhardy are soon dropping like flies while Candyman-obsessed Anthony is ravaged by a bee sting, bees looming large in the legend, and appears to be losing his marbles. Homicidal hauntings will do that to a body, especially hauntings born of psychic pain, and Anthony's undoing is an orgy of torment.
DaCosta (Little Woods) gets her creep on between acerbic side trips into the affected art world and sharp observations of white privilege. There's barely an unquiet moment and the crescendo to which they build is as charged as an electrical storm. But the chief demon at work here is the chokehold of the past.