DRAMA; 1hr 25min
STARRING: Natalie Imbruglia, Daniel Frederiksen, Deborah Kennedy, Tiahn Mabarrack, Danielle Catanzariti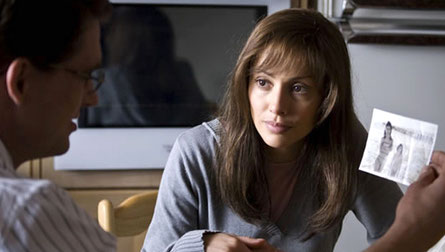 Unanswered questions: Imbruglia
Moving on from the loss of a child is the minefield in which Closed for Winter is set: a slow dance, for those left behind, between an unrealised present and the miserable grip of history. Stranded in the here and now are beautiful, stifled 28-year-old Elise (Imbruglia; doe-eyed lookalike Mabarrack is Elise as a child) and her all but destroyed mother, Dorothy (Kennedy).
Twenty years after Elise's big, stroppy sister Frances (Catanzariti) disappeared while at the local beach, the question of what happened is the tainted oxygen the two women share. Elise is nominally involved in a relationship with a possessive man (Frederiksen) she doesn't seem to like, but really, nothing much matters to her. She drifts on a tide of passivity, her energies anchored in the past.
When the person who can solve a mystery is the mystery itself, resolution is both a cruel joke, and in filmic pay-off terms, a relative non-event. Writer-director James Bogle's adaptation of Georgia Blain's 1998 novel is delicately done yet finally unsatisfying, with Elise's moony, lingering journey of acceptance subtle to a fault.