DRAMA; 2hr 10min (French with subtitles)
STARRING: François Bégaudeau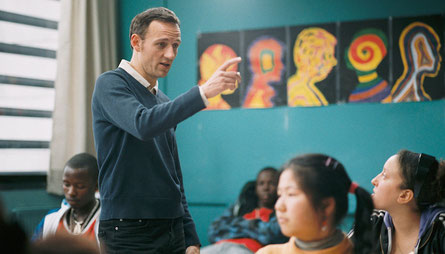 Still standing: Bégaudeau
Short of teaching in it yourself, director Laurent Cantet's insider view of a year in a French classroom is the next thing to being there. The heavily workshopped screenplay by Cantet with teacher and novelist Bégaudeau, based on Bégaudeau's 2006 close-to-life novel Entre les Murs ("Between the Walls"), sees an improvisational cast playing fictionalised variants of themselves: the junior high-school students are actual students, the teachers actual teachers.
As François Marin, Béguadeau is the ringmaster of the exhaustive show. Like Sisyphus and his boulder, he labours up an endless incline in his struggle to reach and teach, repeatedly undermined by the ignorance and indifference of his hard-edged audience. Marin is giving and energised. But when things get out of hand, which they do with startling velocity, his work is called into question.
The beauty of this 2008 Palme d'Or winner lies in its naturalistic aliveness, yet aliveness by nature is messy and patchy. Since nothing is revealed of François after hours, the classroom alone must sustain the momentum — and school life per se was never that spellbinding.