DRAMA; 1hr 50min
STARRING: Joaquin Phoenix, Gwyneth Paltrow, Vinessa Shaw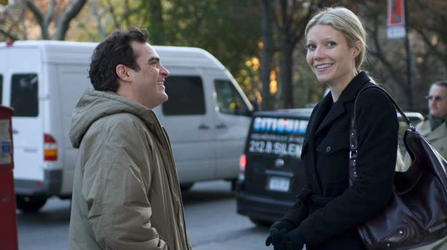 Neighbourly love: Phoenix and Paltrow
James Gray (We Own the Night ) is known for tough movies. But with Two Lovers, the New York film-maker showcases a softer side. Working for the third time with Phoenix, Gray explores the risks of love from the perspective of a man markedly scarred by it.
Leonard (Phoenix) has moved back in with his Jewish parents (Isabella Rossellini and Moni Monoshov) in suburban Brooklyn's Brighton Beach. He is borderline suicidal and directionless, helping out in the family dry-cleaning business. But there's a goodness in him — he is like a bumbly high schooler — that women sense right away. Sandra (Shaw) is a sweet girl set up for Leonard by his folks. Michelle (Paltrow, a dazzler) is a lovely, unsettled neighbour. Leonard is drawn to them both, especially — of course! — to the one he shouldn't have.
To feel at ease with the characters in such an intimate framework, the affinity of the actors is crucial. Phoenix excels with a wonderful, meticulous portrayal as we slowly begin to glimpse the man who Leonard could one day become.