THRILLER; 1hr 46min
STARRING: Denzel Washington, John Travolta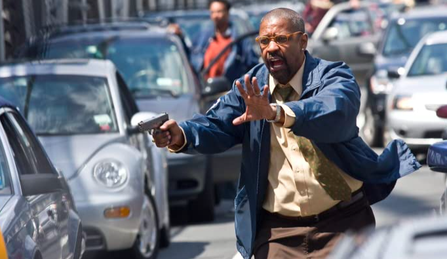 It's scarily easy for a hardboiled foursome to take control of a New York subway train, the Pelham 1:23. A few covert moves and the men — led with feral intent by Travolta (as Ryder), whose handlebar mo and neck tatts all but holler ex-con — are onboard. They're armed, hyped and deadly with hostages galore in their sights and a ransom demand of $10 million within one hour.
Back in the Rail Control Center, train dispatcher Walter Garber (Washington) is working a by-rote shift when the Pelham 1:23 stops dead in a tunnel and Ryder makes contact with him over the mic. Garber looks like a regular guy in a highly irregular spot. But even regular guys have chinks in their buttoned-down armour and as the interchange between them takes pointed, personal shape, the railway man's mettle is threatened.
Director Tony Scott stokes the fires in his remake of Joseph Sargent's 1974 hit The Taking of Pelham One Two Three, and Travolta is up for all kinds of menace with a furious, crazily articulate portrayal. He holds tight to every moment, and a receptive Washington is right there with him. The two of them alone are worth the entire trip.