DRAMA; 1hr 59min
STARRING: Leonardo DiCaprio, Kate Winslet, Kathy Bates, Michael Shannon, Zoe Kazan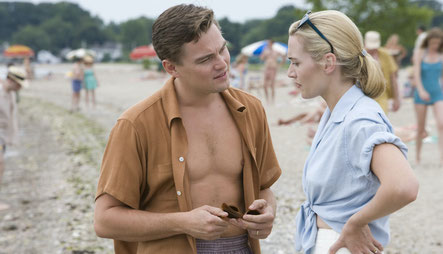 Under pressure: DiCaprio and Winslet
Marriage can be a tie that suffocates. And in 1950s America, where polite appearances are everything and wives are mostly housewives, the pressure to conform is intense. In the penetrative turmoil of director Sam Mendes's Revolutionary Road, Frank and April Wheeler (DiCaprio and Winslet) are buckling under their marital strain. Interred in the dusted coffin of suburban Connecticut with their two young children, their dreams and passions have been stifled by the dulling regimen of the day-to-day.
The Wheelers are miserable and fighting. But unlike so many, they opt for escape. April's brave and delirious plan is for a family relocation to Paris, where she will support them as a secretary while Frank — now marking time in a tedious office job — discovers his life purpose. But as the dream of cutting loose devolves into exactly that, their relationship breaks down.
Mendes (American Beauty) makes acute work of Frank and April's discontentment, brushstroking Justin Haythe's screenplay of Richard Yates's 1961 novel onto the screen with the purpose and dignity a tragedy deserves. Older and wiser eleven years post–Titanic, his two stars are equally responsive as they honour every step of the Wheelers' wretched descent.