COMEDY; 1hr 48min
STARRING: Sandra Bullock, Ryan Reynolds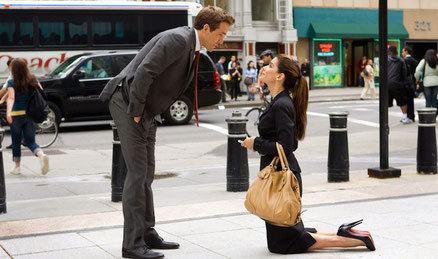 Street cred: Reynolds and Bullock
Bullock a Queen Bee bitch? Ab-so-bloody-lutely! As New York City book publisher Margaret Tate, she comes with built-in horns. Margaret has everything under control except her US residency, which is why she is facing deportation to Canada unless she sham-marries her henpecked assistant, Andrew Paxton (Reynolds, turning poker-faced dismay into an art form).
Why would Andrew risk jail for a woman he barely tolerates? For an instant promotion and a published manuscript, that's why. So off to Alaska for a meet-his-folks weekend they trek. Once there, it transpires that (a) the Paxtons are loaded, (b) Andrew's mother, Grace (Mary Steenburgen), and grandmother, Grandma Annie (Betty White), are warm and welcoming, and (c) he has long-standing father issues (with Craig. T Nelson's Joe). Margaret can't help but soften: these guys would melt an igloo. Now all that remains is for love to bloom-right?
When it's firing, a romantic comedy is like a piece of Rocky Road: nutty, marshmallowy and textured. This Anne Fletcher (27 Dresses)–directed corker is all that, with a great double act from its at-odds stars. Abundant sugar, a nibble of substance and a made-in-showbiz ending. They don't come any sweeter.