COMIC DRAMA; 1hr 30min (Hebrew with subtitles)
STARRING: Mili Avital, BaoQi Chen, Anat Waxman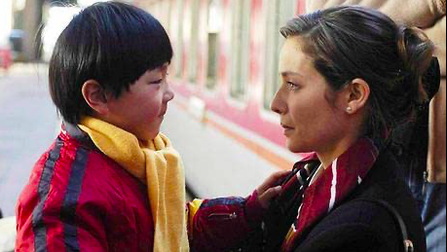 Excess baggage: Chen and Avital
Director Ayelet Menahemi goes the pragmatic road with twice-widowed Miri (Avital). A flight attendant, Miri lives with her sister (Waxman) in Tel Aviv and, despite her losses, is neither happy nor actively miserable, in the compartmentalised way that busy people can manage to be. But she is in for an awakening and a gift when she is landed with her Chinese cleaning lady's six-year-old son (Chen) after the woman is deported.
This doesn't go down well with anyone, especially the bereft child whose smooth beauty masks a peppery spirit. The bickering sisters nickname him Noodle and do their best to cope but language and temperament-wise it's a struggle. Yet even as they labour to locate his mother, Noodle is easing into their lives. Of course he is! He has no one else, and besides, he's adorable. 
Without being the least bit sentimental, Noodle's prickly and affectionate tangle of relationships seduces with the small things — a lingering look here, a gentle gesture there. And while never quite abandoning her crisp demeanour, Avital hits every resonant note as wary Miri finds the courage to care.