DRAMA; 2nr 8min
STARRING: Sean Penn, James Franco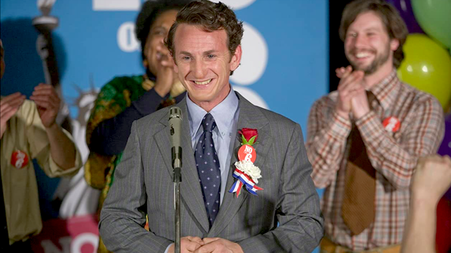 To question the status quo is to enter a gray zone. American gay-rights activist Harvey Milk (Penn) had no qualms about that: in director Gus Van Sant's moving account of the last eight years of Milk's life, "the mayor of Castro Street" is as smiley as a garden gnome, but his appetite for equality is inexorable.
After relocating from New York City to San Francisco in 1972 in search of a more fulfilling life with his lover, Scott Smith (a simpatico Franco), Milk sets up a camera store cum gay community hangout in the Castro District and wins a spot on the San Francisco Board of Supervisors in 1977. In 1978, at age 48, he is shot dead by a fellow supervisor.
The conviction that resonates in screenwriter Dustin Lance Black's narrative is that Harvey Milk's crusade for homosexual acceptance in the stony face of conservative hostility became his primary reason for being. Milk gracefully distils Harvey's galvanic, parameter-smashing zeal, with a supremely at-ease Penn a superlative choice to embody a man so fiercely committed to his truth.