DRAMA; 1hr 30min
STARRING: Hugo Weaving, Tom Russell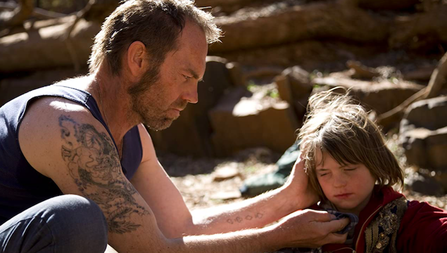 Against the odds: from left, Weaving and Russell
On the move from a disaster, knockabout father Kev (Weaving) and his 10-year-old son, Chook (Russell), are heading by road to Adelaide. Whatever else he might be (an ex-con, for starters), Kev is a hot-tempered thief. He is trapped in a frayed and disintegrating life and Weaving, who never gets it wrong, plays him as a wolfish and damaged streak of trouble.
All Kev has going for him is his tough and plucky kid, who he loves as best he can and treats as erratically as he treats everyone else. His itinerant subsistence is obviously no life for Chook, but initially the boy seems resigned to it with the innocent pragmatism of a child. It's a fragile balance that cannot prevail.
Director Glendyn Ivin's debut feature, adapted by Mac Gudgeon from Denise Young's 2004 novel The Last Ride, demands full-on honesty. That's a huge ask of any child actor, let alone a film first-timer on such an acute journey. Russell comes through with flying colours, as both the little boy Chook wishes he were and the survivor he is forced to become.