COMEDY; 1hr 39min
STARRING: Bradley Cooper, Ed Helms, Zach Galifianakis, Justin Bartha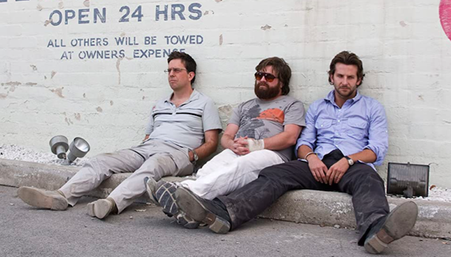 Hung out to dry: from left, Helms, Galifianakis and Cooper
A quickie plot summary puts this one squarely in the Dude basket. Three buds and one ring-in get wasted in Vegas on a bachelor shindig, waking the morning after in their trashed Caesars Palace suite with a missing groom (Bartha as Doug), a baby, a tiger in the bathroom and no memory of what happened. Ouch.
But The Hangover isn't your mill-run grin-and-bear: as the morning unfolds, more disturbing details emerge. At some point, team leader Phil (Cooper) ended up in hospital. Dentist Stu (Helms) has lost a front tooth. And Doug's brother-in-law-to-be, Alan (Galifianakis), was a walking casebook to begin with.
The beauty of Jon Lucas and Scott Moore's incrementally crazy screenplay — directed by Old School 's Todd Phillips with the dab hand of slapstick veteran — is that even as the domino effect escalates, the guys suck it up dead straight. They're as at a loss as any poor schmo would be under the same off-the-charts circumstances, and while nobody would want to be them, they're a blast and a half to hang out with.