DRAMA; 1hr 37min
STARRING: Michael Sheen, Timothy Spall, Colm Meaney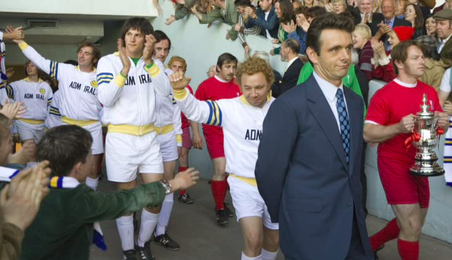 Brief encounter: Sheen (front)
The English love their football and in the 1960s and '70s, Leeds United rule that roost. When Brian Clough (Sheen) becomes the Yorkshire team's manager, replacing his self-perceived bitter rival, the revered Don Revie (Meaney), and flying solo for the first time after alienating his levelling assistant, Peter Taylor (Spall), there is back-room bad blood from day one of the 44 he lasts.
Inspired by David Pearce's fact-driven 2006 novel The Damned Utd, director Tom Hooper and screenwriter Peter Morgan (The Queen) segue back and forth from the day of Clough's 1974 appointment and downhill-run to the 1960s and early '70s, when Clough and Taylor took Second Division club Derby County from the outfield to championship glory. 
The chameleonic Sheen, last seen as a vampire in The Twilight Saga: New Moon, really gets his tidy white teeth into the dapper, compulsive Clough, whose imagined shunning by Revie lights a burning personal fuse. The man is a cocksure terrier possessed by a hunger that only total victory can satisfy. His undoing packs a more thumping wallop than any on-field antics.