DRAMA; 1hr 48min (French with subtitles)
STARRING: Audrey Tautou, Benoît Poelvoorde, Alessandro Nivola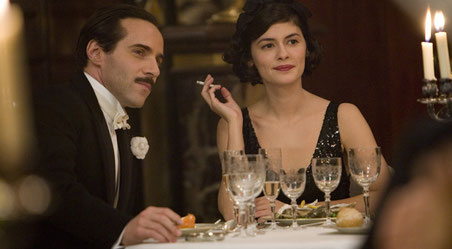 Channeling Coco: Tautou (with Nivola)
For a woman synonymous with le style, Gabrielle Chanel (Tautou) grows from incongruous origins in director Anne Fontaine's revealing portrayal. Consigned to an orphanage in 1893 by her widowed father, Gabrielle makes her way as a young woman in small-time Moulins by combining daytime sewing with evenings as a cabaret singer.
Tautou's Chanel is blade-slender with a steely and watchful resolve: nicknamed Coco by wealthy nightclub customer Étienne Balsan (Poelvoorde), she swiftly latches on, following him to his château and entrenching herself as his mistress, only to tire of his sybaritic life. Even then, her spare, masculine style is the statement of a maverick determined to reinvent her time. And of course, to find love (with Nivola's Arthur "Boy" Capel), regardless of where its risks might lead her.
Coco Avant Chanel means Coco before Chanel — before the fashion legend obscured the woman who created it. To build an empire on a foundation of straw hats takes dauntless talent and strength. In Tautou's dedicated presence, that energy hums beneath every polished surface.