DRAMA; 1hr 34min
STARRING: Asa Butterfield, Jack Scanlon, David Thewlis, Vera Farmiga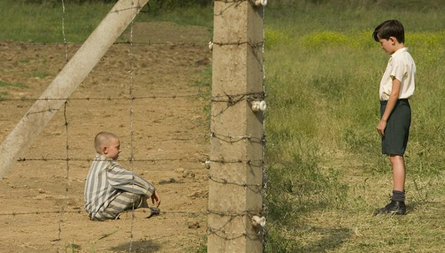 Innocence lost: from left, Scanlon and Butterfield
As the naïve eight-year-old son of a senior Nazi officer, Bruno (Butterfield) has no clue about the reality of World War II. His mother (Farmiga) is a gracious beauty, his father (Thewlis) as caring and serene as a cleric. But when he is placed in charge of a concentration camp and the family moves to a grand country house nearby, the truth of the commandant's devotion to the Fatherland becomes impossible to ignore.
Despite his furtive, through-the-camp-fence friendship with an eight-year-old prisoner (Scanlon as Shmuel) and the dawning understanding it brings, Bruno still wants to believe in his dad. But the commandant is what he is, in all his fanatical conviction. Then writer-director Mark Herman's modulated take on modern history suddenly becomes something else.
Of the recent crop of Holocaust films (Valkyrie, Good ), the fictional but too true scenario of The Boy in the Striped Pyjamas — adapted from John Boyne's 2003 novel — is by far the most shattering, at first for its final tonal shift, then essentially for its reflection of evil through innocence.