DRAMA; 1hr 41min
STARRING: Ben Mendelsohn, Bryan Brown, Maeve Dermody, Rachel Griffiths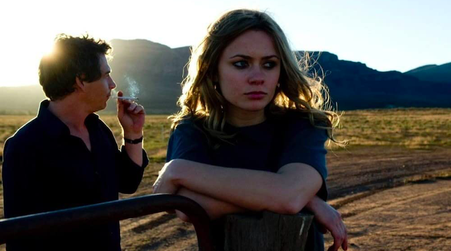 Out back: Mendelsohn and Dermody
Maybe it's not so much that you can never go home again as that in certain unhappy circumstances, you'd be a brave man to try. And if, like Ned Kendall (a commanding Mendelsohn), you do make that gut-wrenching journey, be prepared for the ghosts who await you.
Ned is a 40-year-old writer who, after a 20-year absence and in a profound error of judgment, has dragged his petulant, much younger, waitress-slash-actress girlfriend, Toni (Dermody), across Australia to his boyhood home, a sheep station in the Flinders Ranges. His widowed father, Bruce (Brown), never the easiest of men, is dying miserably in the care of Ned's stoic sister Sally (Griffiths). Their Spartan house is tangibly uninviting and the family history is a sexual minefield.
With nothing to do but bake and stew in the entrapping isolation, Ben sinks into a quagmire of traumatic memories — and director Rachel Ward's flashback-spliced adaptation of Newton Thornburg's 1984 novel leaves no threatening truth unturned. Beautiful Kate is a dark revelation as Ned stares down his private demons, reaches out to his father and feels his way to a testing version of peace.