DRAMA; 2hr 18min
STARRING: Tom Hanks, Ewan McGregor, Ayelet Zurer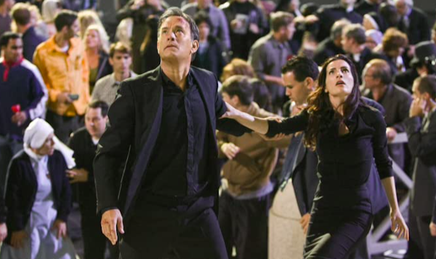 Heaven's above: Hanks and Zurer
Cool-customer symbologist Robert Langdon (Hanks) is back minus his floppy 'do in this follow-up to 2006's The Da Vinci Code. Langdon has his elite work cut out for him once again: the Illuminati, an ancient, virulently anti-Catholic secret society, has seemingly resurfaced in the Vatican following the death of the Pope. Four cardinals have been kidnapped and are facing imminent death, and a cutting-edge explosive device has been stolen from a research facility.
To curtail a catastrophe, Langdon — recruited with reservations by the Vatican City acting supremo, the Camerlengo (McGregor) — and his stunning scientist partner in anti-crime (Zurer) must speed-sleuth a path of clues. The egghead chase is on, from the scientifically sealed Vatican archives to the teeming streets of Rome and beyond them, to darkly hidden places, ta-da.
À la Da Vinci, Demons is cat-and-mouse with a serious historical bent, but there is nothing stuffy about this papal trail. The frocked pomp of Catholic protocol is a sumptuous playing field for director Ron Howard, who commands its crafty cut and thrust with the supreme ease of a very big picture man.