DRAMA; 1hr 40min
STARRING: Radha Mitchell, Joel Edgerton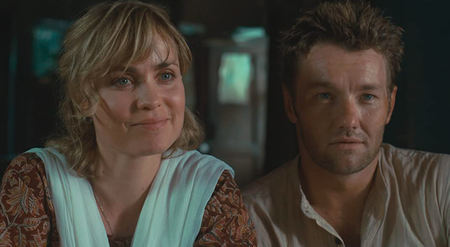 Baby steps: Mitchell and Edgerton
Kicking off with documentary-style unfussiness, The Waiting City dives into the arrival of married couple Ben (Edgerton) and Fiona (Mitchell) in loopy, unruly Calcutta. They've flown from Australia to adopt a baby daughter but not so fast, boys and girls: the paperwork is a maze of incomplete detail.
Right off the bat, the two are way out of their cultural comfort zone. Plus they're opposites who would seem to have nothing in common, she being a case-laden lawyer and he a free-and-easy muso (whose lyrics could use work — but that's another movie). So when chips start to appear in their relationship, the only surprise is why the pair of them are together at all.
Setting the taxing shebang in India only adds to the cliché load as writer-director Claire McCarthy takes the at-odds couple on a Lonley Planet tour. At its most appealing, the screenplay manages a degree of lazy goodwill. Mostly though, it's just lazy. And by the time it gets to where it needs to go, all the gauzy dawdling has dulled the impact.