DRAMA; 1hr 24min
STARRING: Mark Leonard Winter, Geraldine Hakewill, Matilda Ridgway, Tom Wren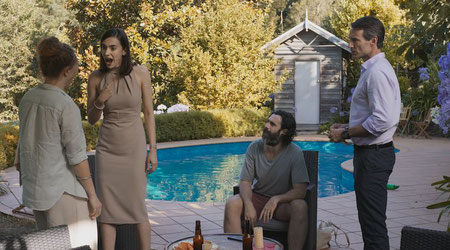 Split infinite: from left, Ridgway, Hakewill, Winter and Wren
This Australian onion peeler means monkey business from its opening images of a lusty, home-videoed sex scene between journalist Danny Bowman (Winter) and his documentarian wife, Emily (Ridgway). Having dispensed with the Bowmans' carnal knowledge, writer-director Michael Bentham's cool-handed debut then cuts in suggestive, emphatically scored slo-mo to an otherwise innocuous suburban neighbourhood. Or is it?
Six weeks later, Danny and Emily are baring all by their pool, since this is plainly their thing, when up-and-coming pollie Joel Chalmers (Wren) and his tightly wound wife, Bek (Hakewill, brittle as a porcelain figurine), unexpectedly drop by. The two couples are friends but this is no social visit: the Bowmans' four-year-old daughter has accused the Chalmers' nine-year-old son of molesting her — not in so many words, being four, but the awful inference is clear — and an aggrieved Emily "just [wants] you guys to accept that this has happened…"
Fat chance, Em! The wary, defensive Chalmers aren't giving a strategic inch. Bek, in particular, appears to be one dark horse. But since appearance and reality are Bentham's meat and drink, what we think we know at the outset crumbles to scorched earth in a furnace of incendiary agendas. These are entitled individuals with high-priority points to prove, and a great deal to gain or lose. (Not to mention that filming yourself having sex isn't always the brightest idea.)
Single locations can sometimes feel stifling, but these physical constraints only emphasise the warring foursome's ferocity. Every stab wound lands with wincing precision between the slippery poles of ambiguity and self-interest, fought for in the dappled shade of what would otherwise be a refuge from those very states of play. In its final analysis, Disclosure isn't so much about how far a parent will go to protect his or her child as from whom those children may well need protection.