ROMANTIC COMEDY; 1hr 35min
STARRING: Catherine Zeta-Jones, Justin Bartha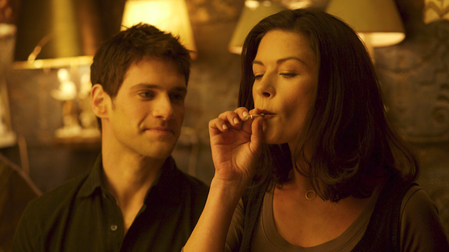 Inhale and hearty: Bartha and Zeta-Jones
As night follows day in the romantic comedy alternaverse, things may get tough but toughness is a matter of degree. If we want epic tragedy, we'll catch up with Macbeth, right? But if we fancy attractive characters working their winning way through a well-mapped series of rolling hills, we could do worse than giving The Rebound a whirl.
For one thing, it's the work of film-maker Bart Freundlich (Trust the Man). It also stars a livewire Zeta-Jones as upscale suburban wife and mother Sandy who flicks her cheating spouse for a loft above a New York City coffee shop where lonely-heart Aram (Bartha) works. Sandy is 40 (but still hot!). College grad Aram is 24 and a natural as a nanny for Sandy's kids when she lands a great, alternaverse TV job. And they have so much in common, how can it not be love…
Can you feel it? If not, don't blame the stars who are so right together they subvert potential clichés while keeping everyone guessing. Are Sandy and Aram a flameout or a for-keeps? Either way, it's an over easy ride.